Open letter
Dear company!

First, sincerely thank you for your interest in Anh Hien's products during last time.

ANH HIEN TRADING PRODUCTION COMPANY LIMITED now was established in 2000

Our company with a capital of 10 billion and 20 billion in working capital includes 03 workshops in Thu Duc and Phu Nhuan district. With a team of engineers and workers, skilled engineers. Our company has always focused on the goal, improve the design and enhance the quality of products to meet the needs and tastes of consumers in industrial kitchens.

Our company specializes in design consulting, manufacturing, production, and installation of kitchen equipment, Systems Lead Gas Industry, Ladder Raise Food for IPs and EPZs, Hotels, Schools, Hospitals , catering industry, the Army etc. Industrial gas supply for 04 cities: Ho Chi Minh City, Dong Nai, Binh Duong, Long An Province

With high quality products, produced under the advanced technology line today. Products are manufactured by SUS 201, SUS 304, SUS 316 imported to satisfy the customers with the best reliability available today.

Our company with over 11 years experience and advanced production equipment in the kitchen & System Gas industry. With the support and trust of customers across the country. Our company currently trading more on other sectors such as: Construction - Aluminium - Tempered glass - stairs, cabinets, racks, wooden bowls - Supply Wholesale & Retail kinds of stainless steel SUS 316-304 - 201-430 as: Roll inox - Stainless steel panels - Lap inox - stainless steel pipes ...

With the desire to provide the best design, flawless products to all customers. Over the years, with passion and determination, anhhien has not stopped efforts to improve the skills and quality customer service.

To catch up with the trend of the times and take advantage of the potential that the internet system offers, Anh Hien formally introduce products and services on the website inoxanhhien.net


Here, you can easily: Reference designs: Machine wash trays, cups, forks Inox industrial, oven trays, bowls, stainless steel cabinets steamed towel, warm food cabinets, cupboards steamed rice industrial, desk shelves, stainless steel trolley, floor gas stove, hood industrial system, European and Asian exchanges gas stove, restaurant, bakery electricity, mixers, dough dividing machine ...

View works by Anh Hien was deployed.


Contact Anh Hien to order or advise on products and services.


Send all comments, ...


With the motto: investing depth to the finished product the best, Anh Hien always focused and closely monitoring all processes: consulting customers, fieldwork, equipment Design, to drawing, processing products and complete installation.

Anh Hien also constantly implementing cost-saving measures to ensure maximum finishing products have unbeatable prices.


Anh Hien always willing to listen to any comments you have about the products as well as quality service and hope to receive more support from all of you!


Wish you good health and always reap success in life!

Thank you very much!


ANH HIEN TRADING PRODUCTION COMPANY LIMITED current picture

Head Quarters: No.86/21 Quarter 2, Dinh Phong Phu Street, Tang Nhon Phu B Ward, Thu Duc City, Ho Chi Minh City, Vietnam - Phone: 6.256.7777 - Fax: 6.282.5516

Showroom Villa: 09 Tran Nao Street 40/30 - An Binh Ward - District 2 Phone: 090.6611.999 (Mr. Hien)

- Workshop 01: 70/22 109 Street - Quarter 5 - Phuoc Long B Ward - District 9 - Phone: 090 66 11 999

- Workshop 02: N0.03 Street 3 - Truong Tho Ward - Thu Duc District - HCMC - Phone: 7211 092 999

- Workshop 03: 146/4 Tran Ke Xuong - Ward 7 - Phu Nhuan District - Phone: 092 888 7001


WISH YOU HEALTH - HAPPINESS - DEVELOPMENT ACHIEVEMENTS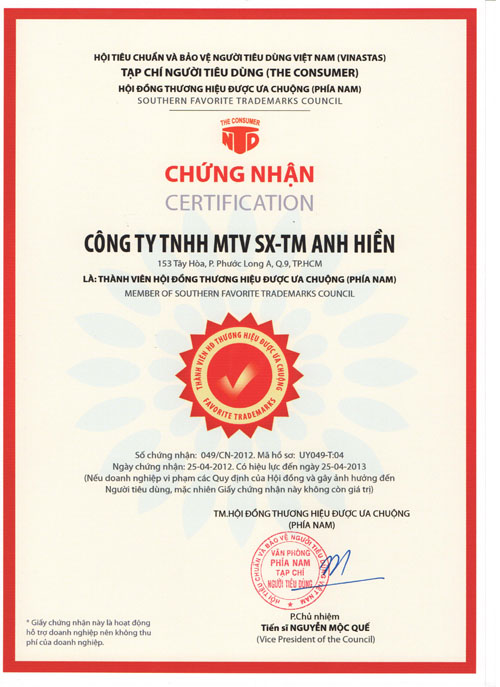 GENERAL INTRODUCTION
"INOX Anh Hien - FOR EVERYONE, FOR EVERY HOME"


On 25.04.2012, the Standards and Consumer Protection Vietnam (VINASTAS), Consumer Magazine (The Consumer), the Council preferred brand (south) has officially granted certificates ANH HIEN TRADING PRODUCTION COMPANY LIMITED is currently board members preferred brand (south). This event is a brilliant successes marked achievements over 10 years of operation in Vietnam's stainless steel sector company by Pham Luong Hien, director.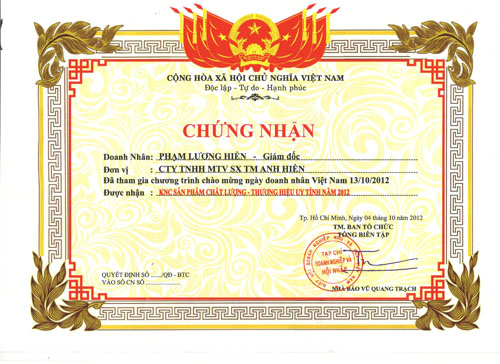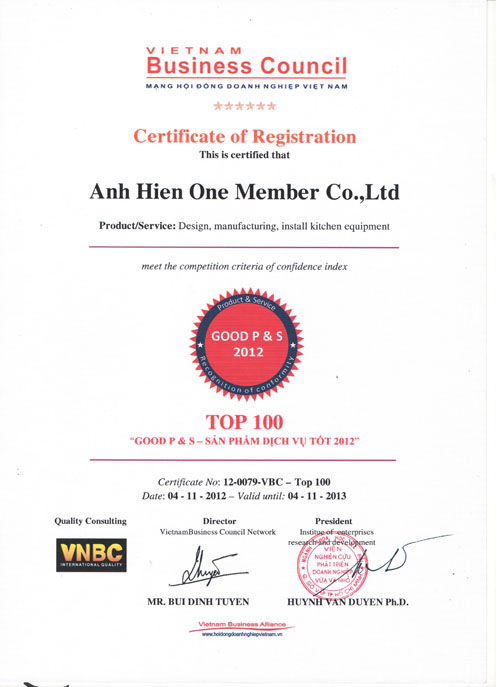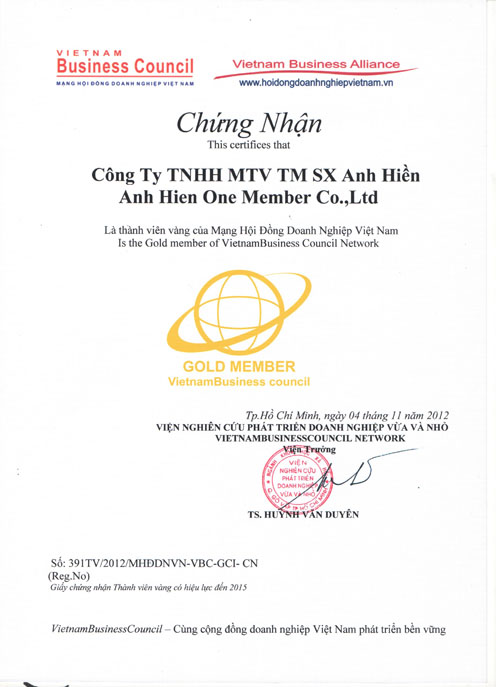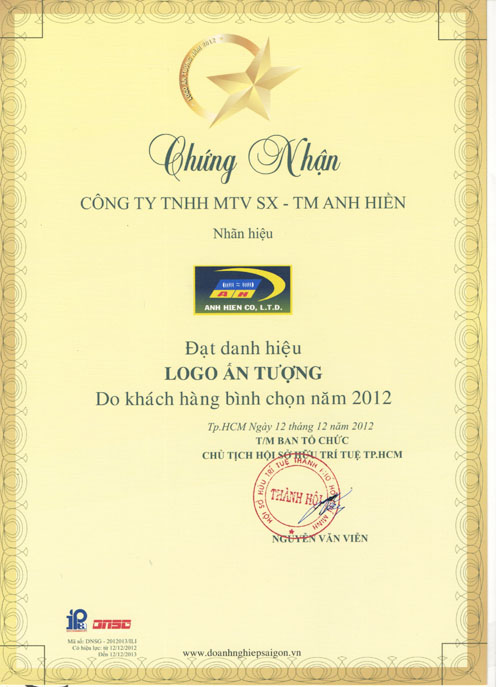 On 21/07/2012 the program "Vietnam because Vietnamese enterprises 3" by digital television VTC organization.
On 05.10.2012 is integration Business Association and awarded "Product quality reputable brand 2012" anniversary date 10.13.2012 Entrepreneur Vietnam.